Grow Groups
This Lent (March 8 – April 21), Hanscom Park UMC will have another six-week round of Grow Groups in the spring. Please consider participating as a way to learn, pray, and grow in your faith.
Fish & Fellowship (NEW GROUP!)
Fridays at 6:00pm
Throughout Lent (starting March 8)
Like a good Fish Fry? Like the company of friends from Hanscom Park church? Well, we've got a great new Grow Group for you. Fish & Fellowship will meet each Friday during Lent to explore the Omaha Fish Fry scene and grow in faith together. The group will meet at the church each Friday at 6:00 to carpool to the various Fish Fry locations and gather for fellowship afterward. Talk to MaryK Mashek or Cindy Serfass for more information, or contact the church office (info@hanscomparkchurch.org) and we will connect you to the group.
Sunday Book Study
Sundays at 8:45 AM (starting March 10)
This group will meet before worship each Sunday to discuss the book Made for a Miracle by Mike Slaughter. Discussion will be led by Peg Speck & Cindy Ray. For more information or to order a book for the group, contact the church office at (info@hanscomparkchurch.org).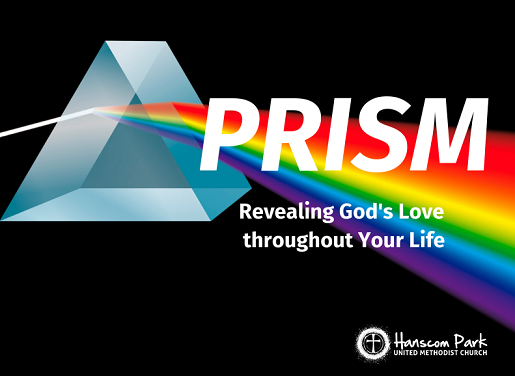 PRISM: Revealing God's Love throughout Your Life (Confirmation for All)
Sundays from 11:30 AM – 1:30 PM (starting March 10)
Join Pastor Chris and Youth Leader Emily Baker for a brand new intergenerational confirmation class that is WAY more than an information dump of facts you will never remember. Adults in the church who want to revitalize their faith will join together with high school students seeking confirmation for six weeks of Practice, Relationship, Integration, Scripture, and Methodism. The class will be taught in 20-minute modules covering each of the following areas every week:
Practice: discuss why we do all the unusual things Christians do…from baptism to communion to prayer to service and more.
Relationship: grow in relationship with one another as we wrestle with our questions and ideas about God, humanity, and the church.
Integration: participate in activities to help you reflect on how faith has been part of your life journey thus far…and how God is calling you to grow and express your faith throughout the rest of the adventure.
Scripture: engage with the biblical text that contains the story of our faith, and learn how to use the scriptures as a means of spiritual growth.
Methodism: explore the uniqueness of our Methodist tradition, how it is similar and different from other expressions of Christianity, and how it can be practiced throughout a lifetime.
If you plan to participate in this class, please notify Pastor Chris via email (chris@hanscomparkchurch.org) or sign up on the clipboard in worship. There will be food to get us through! All adults and high school students are invited to participate. If your middle school youth is interested, please contact Pastor Chris to see if this class is right for your child.
Daytime Sermon Discussion Group 
Tuesdays at 1:30 PM (starting March 12)
This group gathers to support each other on their spiritual journeys and reflect on the past week's sermon topic. Leaders: Cindy Gasper & Sue Luce
Evening Sermon Discussion Group 
Tuesdays at 6:15 PM (starting March 12)
This group gathers to support each other on their spiritual journeys and reflect on the past week's sermon topic. Leader: Julie Zachmeyer
Choir & Band Small Group
Wednesday Evenings (starting March 13)
This group gathered before weekly music rehearsal to support each other on their spiritual journeys and reflect on theological topics. Discussion often centers around the music used in worship and personal devotional time. Leaders: Tracy Loucks & Keith Strehle
Youth Dinner & Dish
Wednesday at 5:45 PM (Ongoing)
This group meets every Wednesday throughout the school year, with a break around the Christmas holiday. (See Events page for detailed schedule.) For junior and senior high school students. Dinner and discussion from 5:45-6:30, and practice with the band and choir from 6:30-7:30. Leaders: Emily Baker & Angie Patras