Hanscom Park United Methodist Church strives to be a place where everyone is welcome and everyone knows it. This welcome affirms all people to come and join God's community as they are. You are welcome in this congregation regardless of Race, Nationality, Age, Gender, Gender Identity, Marital Status, Sexual Orientation, Physical Ability, Mental Ability, Economic Class, or Educational Experience. We are proud to be part of a network of Omaha inclusive Methodist churches.

We are hiring!
Youth Director & Family Ministries Coordinator
Part-time:
10-15 hours per week (including Sunday mornings and Wednesday evenings during the school year)
Hourly rate:
$15-20 per hour
Contract Period: July 1, 2022 – June 30, 2023
Do you love working with youth and families to help kids grow in faith and share God's love with the world? We would love to have you join our team! The position of the Youth Director & Family Ministries Coordinator manages and leads all aspects of HPUMC Youth (Grades 6-12) programming with theological and pastoral support from the Senior Pastor and Associate Pastor. The position also supports the Children's Religious Education Team by welcoming and integrating new families into the community life of Hanscom Park church and communicating with families of children and youth. 
Click here for full job description.
 Apply soon by sending your cover letter and resume to Pastor Chris at 
chris@hanscomparkchurch.org
! Applications will be reviewed beginning May 10, 2022.
Join us for Worship
Sundays at Hanscom Park
In-Person & Streaming Worship @ 10 AM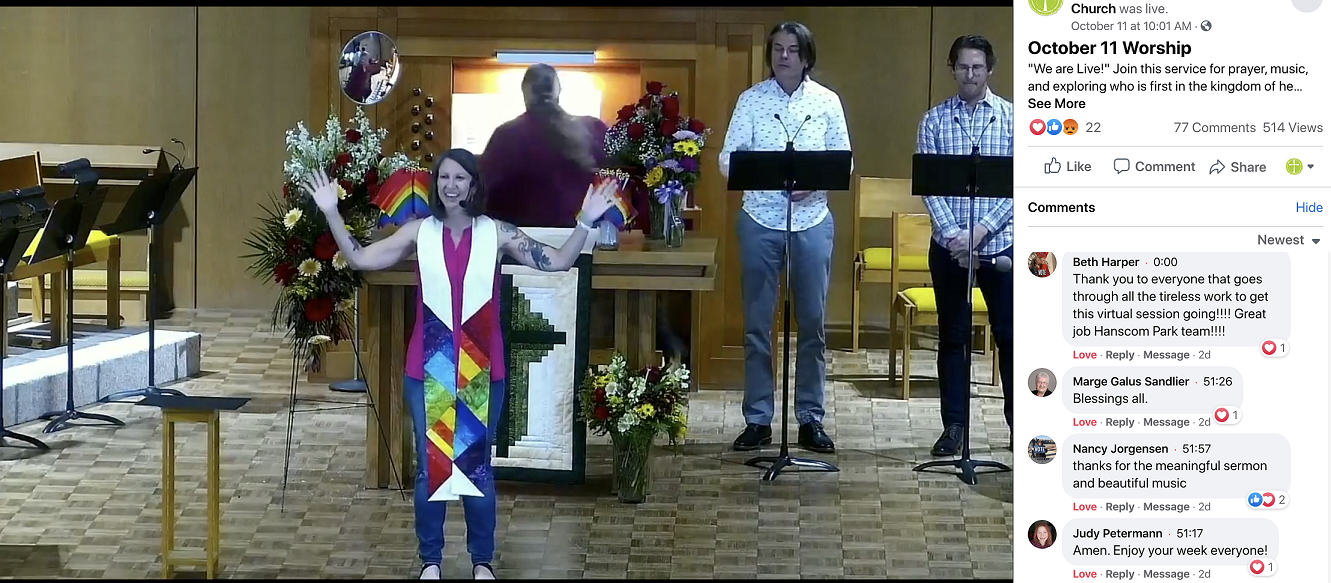 We hope you will join us in what we call "seriously joyful" worship. We are not afraid to ask hard questions about life and faith, even as we embrace joy in the steadfast presence and love of God! Join us for worship in person on Sunday mornings!* There you will be greeted warmly by your fellow worshippers, be inspired by our voices joined in song, and enjoy the presence of the Holy Spirit that fills the sanctuary. Can't join us in person? We continue to worship streaming on Sundays on Facebook Live. Even if you can't be with us in person, you can join in this interactive opportunity to claim the hope and joy of God in a distanced manner. You can find us streaming on the Hanscom Park United Methodist Church Facebook page at https://www.facebook.com/hanscomparkchurch/
*Due to declining COVID cases in our area, we have moved into a phase of making masks optional for people of all ages in worship.
Our Location
4444 Frances Street
Omaha, NE 68105
(1 block South of 45th & Center St. in Omaha, behind Wells Fargo Bank)
Get directions