Hanscom Park United Methodist Church strives to be a place where everyone is welcome and everyone knows it. This welcome affirms all people to come and join God's community as they are. You are welcome in this congregation regardless of Race, Nationality, Age, Gender, Gender Identity, Marital Status, Sexual Orientation, Physical Ability, Mental Ability, Economic Class, or Educational Experience. We are proud to be part of a network of Omaha inclusive Methodist churches.

Join us for Worship
Sundays at Hanscom Park
In-Person & Streaming Worship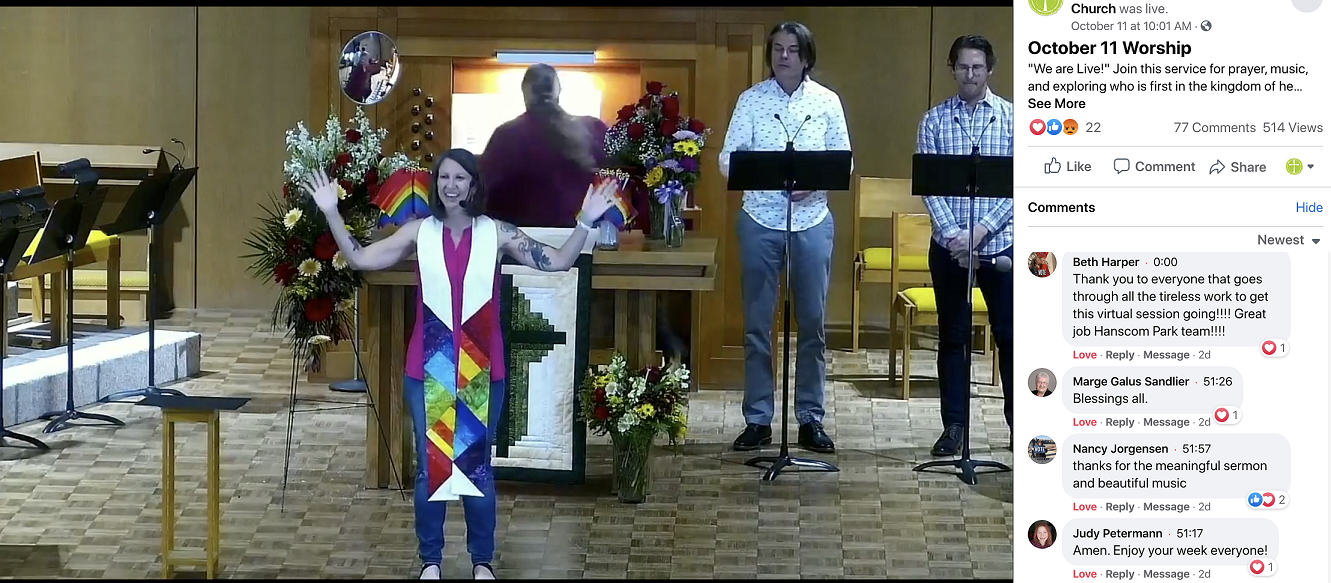 Sundays in the Sanctuary @ 10 AM
We are in Phase 3.6 of our Reopening Plan (Normal Operations with Masks Required Indoors). We are happy to lift our attendance cap for in-person worship in the sanctuary! Everyone who feels comfortable returning is invited to join us. We are continuing to ask ALL people to wear masks until Douglas County reaches a low-enough transmission rate where the CDC removes its mask recommendation for our county. We continue to invite vaccinated folks to sing softly behind their masks and have relaxed our social distancing rules so that you may chat with your church family. For full details, please review our Reopening Plan (HPUMC Plan for Safely Reopening the building). Thank you for your continued support of Hanscom Park church and care for our community!
Streaming Sundays @ 10:00 AM
We continue to worship streaming on Sundays on Facebook Live – complete with music, a special Children's Time, a sermon, and a time to connect with one another through prayer and conversation. You won't want to miss this inspiring and interactive opportunity to claim the hope and joy of God in a safe, distanced manner. You can find us streaming on the Hanscom Park United Methodist Church Facebook page at 
https://www.facebook.com/hanscomparkchurch/
Our Location
4444 Frances Street
Omaha, NE 68105
(1 block South of 45th & Center St. in Omaha, behind Wells Fargo Bank)
Get directions