Hanscom Park United Methodist Church strives to be a place where everyone is welcome and everyone knows it. This welcome affirms all people to come and join God's community as they are. You are welcome in this congregation regardless of Race, Nationality, Age, Gender, Gender Identity, Marital Status, Sexual Orientation, Physical Ability, Mental Ability, Economic Class, or Educational Experience.
Worship & Sunday School
10:00am   Sunday School (during worship)
10:00am   Worship
Our Location
4444 Frances Street
Omaha, NE 68105
(1 block South of 45th & Center St. in Omaha, behind Wells Fargo Bank)
Get directions

What's Happening at Hanscom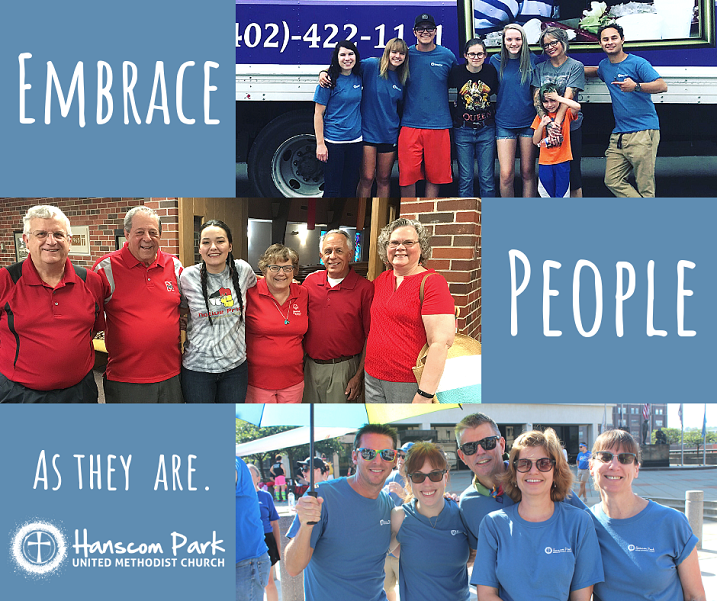 Sermon Series: Embrace people as they are.
September 8 – October 27
Do you remember a time in your life where someone embraced and loved you just as you are? No conditions, no strings attached? It's actually pretty rare…and yet that is what God's love is like, and it is the kind of love we strive to show one another so that we can get a glimpse of God's all-embracing love. This fall, we will explore what it means to embrace people as they are. We will learn how Jesus embraced people, how the early Methodist movement embraced people, and how we can embrace people and still keep healthy boundaries. Mostly, we will practice embracing people as they are by gathering as a community who loves generously, trusting that it is love (and not judgment) that leads to transformation.
Join a Grow Group this fall, and commit to growing in faith. Each group will bring people together, make space for them to share life's joy and struggles, study and learn, and pray for one another. By gathering together, we will support each other and encourage each other to grow in the image of God day-by-day. Groups start the week of October 6 and run five weeks. Click to learn more.