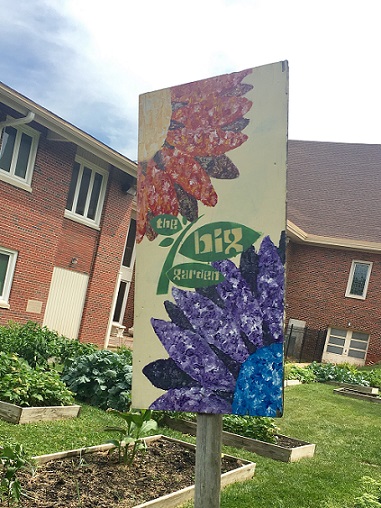 At Hanscom Park UMC, we have committed to sharing God's love in word and deed…and sometimes in vegetables. Our Big Garden on the south lawn of the church is open to anyone in the surrounding community who would like to help tend and care for the plants and reap the harvest later in the summer. We are excited about some new projects happening in the garden this summer. ALL are welcome to join us for gardening, worship or both. Details are below!
Community Garden Group / Worship in the Garden
Thursdays (Starts June 6 through the end of August. We will not meet on July 4th.)
5:30 PM Community Garden Group
6:30 PM Worship in the Garden 
Join us on Thursdays to work in the garden from 5:30 – 6:30, and stay for a casual worship opportunity outside in nature. The worship service will include a bit of prayer, a bit of music, and a bit of communion through the bread and the cup – and through fellowship with one another! Feel free to join us for gardening at 5:30 or worship at 6:30 or both. ALL are welcome for this new experiment of connecting with God and one another outside the walls of the church.
Gathering Hope: A Mental Wellness Gardening Group
Tuesdays (starting May 21st)
7:00 PM

Gathering Hope seeks to create a space to grow….where adults working towards positive mental health can increase wellness, become invested in a community, grow great food, and build resiliency together. This is a group for HPUMC members and non-members alike. We will meet every Tuesday from 7pm to 8pm starting on the May 21st to garden and support each other. If you have questions, please email the church office at 
info@hanscomparkchurch.org