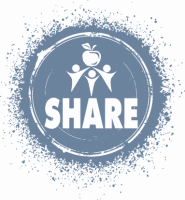 This month's current menu
Next in-person order dates are Wed., January 30, 5 to 7 PM & Sat., February 2, 9 to 11 AM
Food Pickup date is Saturday, February 16, from 11:45 AM to 12:30 PM
What is SHARE?
It is a non-profit organizations that specializes in selling exceptional food at up to 50% off. They have been in business for over 18 years, there is no catch it's just a great deal. SHARE was started as a resource to help others and that spirit is alive and well today. They encourage who takes advantage of the food savings to give back a little. They believe that by lending a helping hand to our neighbors, friends and family, we will make this world a better place to live in. www.shareiowa.org
The Food
SHARE contracts with food buyers from around the country to source and purchase high quality food. We buy this food at wholesale prices in large quantities. Because we make every effort to buy smart at wholesale prices we can pass those savings on to you and your family. Here's a few quick facts about SHARE:
SHARE only buys quality food from reputable vendors
SHARE does not take food donations
SHARE is not and has never been a Food Bank
SHARE is run primarily by a huge volunteer workforce
SHARE is for everybody who wants great food at great prices
SHARE has no membership fees or dues
SHARE is for you
The Process
Every month SHARE publishes a print and online version of our menu. The menu is comprised of frozen food, meats, vegetables and other grocery items all of which are organized into "Food Packages". To buy one or more food packages you either place and pay for your order with your local SHARE distribution location or order online and pay with a debit or credit card. All online orders are processed via our secure paypal credit card system.
Volunteer with SHARE at Hanscom Park
Every month on the Food Pickup date, a team gathers to help with the distribution of food for our SHARE food program. We can use your assistance for any and all of these steps, so please join us when you can!
Food Pickup Day Volunteer Schedule:
10:00-Set up at church.
10:30-Leave to get food at Bellevue East.
10:45-Arrive at Bellevue East if you want to meet there.
11:15 to 11:30-Return from Bellevue East. Set up food lines.
11:45 to 12:30-Distribution of food (pick-up time for customers).
12:30 to 1:00 PM Clean up.