This year, cast off the need to be perfect. Embrace that you just might be more Pinterest-fail than Martha Stewart. And ground yourself in what really matters: that we are children of a God who loves us so much that He risked becoming one of us, and who is so committed to us that She dwells among us still.
I hope you will journey with us in worship this Advent and on Christmas, as we seek and worship Emmanuel, God-with-us, the incarnate Christ who meets us right here in the imperfect messiness of our lives. May we let go of the need to be or appear perfect, open our hearts to the God who meets us where we are, and who promises us new life.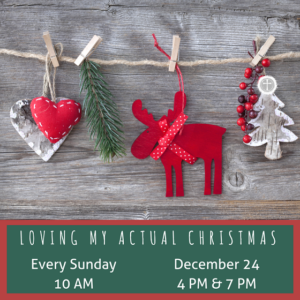 *Our sermon series is inspired by the book Loving My Actual Christmas: An Experiment in Relishing the Season by Alexandra Kuykendall.
ADVENT & CHRISTMAS WORSHIP CALENDAR
Sunday, December 3rd
10:00 AM First Sunday of Advent – Loving My Actual Christmas Kickoff
Start your Advent right by pondering with Pastor Chris how this holiday season can have LESS rush and stress and anxiety, and MORE love from the God who meets us in the mess of our lives and empowers us to live in a new way!
Sunday, December 10TH
10:00 AM Second Sunday of Advent – Blue Christmas Observance
Not everything is merry and bright in this season of sometimes-forced frivolity. Gather with your church community today to be real – about the people you long for but no longer see, about the fears and disappointments and struggles that continue, even when the Christmas lights are strung.
Sunday, December 17th
10:00 AM Third Sunday of Advent / Children's Christmas Program
Join the children of Hanscom Park Church as they lead us in worship – and as we seek to recapture the JOY of a child in this holiday season.
Sunday, December 24th
10:00 AM 4th Sunday of Advent / Christmas Eve Morning
Join us to light the final candle of the Advent season and take the last step toward the joy of Christmas.
4:00 PM & 7:00 PM Christmas Eve Services
Over 2,000 years ago, God was born among us. The Word made flesh. Baby Jesus in a manger. God and humanity intertwined. Join us on Christmas Eve as we celebrate the story of when God wasn't afraid to get down in the muck with us, and as we cling to the hope that it is still true – that even in our imperfect lives, still, God is with us.