Hanscom Park believes that those planning to use the Church and the purpose of the Church use should follow the guidelines set by The United Methodist Book of Discipline. The use of our Church should reflect God's spirit in that our time is a valuable gift from God. We believe that the activities carried out within the sanctuary and/or building should honor and respect God as well as the members of Hanscom Park Church.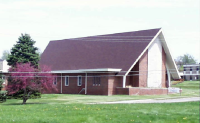 We welcome groups whose purpose for being falls within the mission and ministry of Hanscom Park Church and the United Methodist Church as a denomination. Such groups may or may not have a supporting member who is a Hanscom Park Church member, although the specific use of the Church may require specific members of the Church be present for reasons outlined in the building use request forms document below.
Available dates for church building/room use need to be approved by the church office.  Please contact the office at 402-553-3312 or
info@hanscomparkchurch.org
to check availability.